Children are close to our heart!
At New Life Brace and Limb pediatric is an area of special focus. Pediatric Prosthetics and Orthotics require skill, training and dedication - New Life fulfills them all. Bob Draeger, CPO, LPO, Cped  has extensive experience in Pediatric Orthotics. Draeger leads our experienced, attentive and dedicated team as our Pediatric Prosthetic and Orthotic Specialist who has been serving children at UTMB children's hospital  for over 25 years.
We perform periodic checkups for children fitted with Orthotics to ensure their devices continue to fit and function well. We provide state-of-the-art rehabilitative orthotic devices, quality restorative orthotic care and the highest level of patient-focused service. We strive to improve the functional outcome of every patient.
Our custom fabrication and adjustment facilities ensure our patients are served better & faster whenever an off the shelf device doesn't fulfill their needs. We use cutting-edge technology to custom design and custom fabricate a wide range of orthotic devices to correct deformities or improve the function of a weakened extremity.
Newlife Brace & Limb provides a specialized approach for prosthetic care for children, we understand how important the care of their needs during their growing years. Children with their rapid  growth, will require frequent office visits and more careful observation of their progress.
Pediatric patients between the ages  1-18 years will require a new socket and other prosthetic modifications at least yearly and should be evaluated by their prosthetist every six months.
At New Life our Pediatric Prosthetist, we specialized in Upper and lower limb/extremity prosthetics.
Specialized prosthetic activity-specific prosthesis devices.
Hip Disarticulation
PFFD Prosthetics
Symes
Rotational Plasty
Call today for your free Evaluation!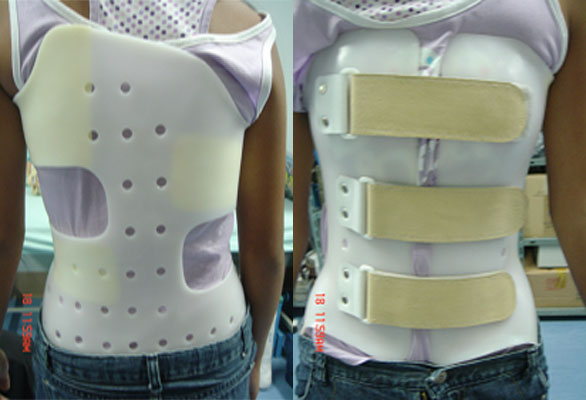 Adolescent Idiopathic Scoliosis is a curvature of the Spine that affects children during adolescent growth. New Life specializes in Scoliosis Bracing and provide bracing options to treat and manage the spine.
Orthotic devices pave the road towards strength, balance, comfort and independence.
What is the goal of orthotic treatment?
According to estimates, about two-thirds of children with Cerebral Palsy have the ability to walk and ambulate. But because of the nature of Cerebral Palsy – and its effect on the muscles, joints, and patterns of motion – establishing a gait that is meaningful can be a challenge. When an orthotic device is a successful part of treatment, it should help children establish normal patterns of joint and muscle motion.
Orthotics can help remedy this situation by:
Providing a stable base for movement
Establishing an efficient gait
Minimizing the effects of spasticity in limbs
Creating an environment in which a child can take repeatable steps
Reducing excessive energy used to move
Aiding the transition between sitting and standing
Reducing, or eliminating, hip and knee hyperextension, missteps
Reducing the potential for accidents
Increasing a child's ability to function physically, and mentally
Strengthening weak muscles
Controling muscular imbalances
Correcting poor skeletal alignment
Preventing deformity
Providing stable base of support